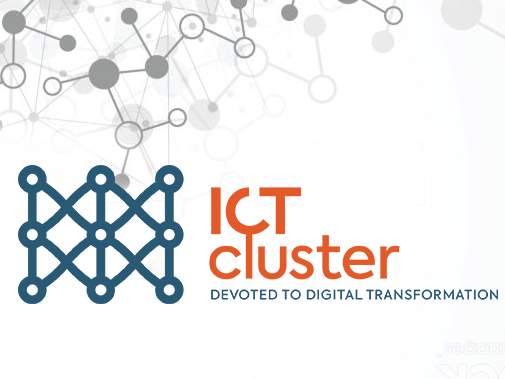 Foundation "Cluster Information and Communication Technologies" was created in 2005 by representatives of the Bulgarian ICT business. Acting as an umbrella organization of Bulgaria ICT Industry, ICT Cluster has 10 members ( ICT associations and ICT clusters), which includes more than 280 ICT SME from different segments of the ICT Industry and 6 Bulgarian technical universities.
ICT Cluster is a strategic cluster initiative of Bulgarian ICT business. The mission of the organization is to increase the competitiveness of Bulgarian ICT industry by support of ICT SME growth, promotion of ICT cluster excellence and creation of new business opportunities through cross- border, cross-industry and cross-cluster collaboration.
ICT Cluster activities are aligned with the following goals:
Promotion of cluster approach and cluster excellence as a tool to increase the competitive of Bulgarian ICT SME;
Support of industrial transformation and development of emerging industries by using ICT in Bulgaria and the region;
Facilitate entrepreneurship, foundation of business skills, supporting establishment of national system for technology risk financing;
Creation of new global business opportunities across regions, industries, borders, and continents;
Boosting technology transfer, Innovations and R&D development in Bulgaria;
Peter Statev
Chairman of Managing Board of ICT Cluster
peter_statev(at)ictalent.org
NGO sector activities:
2006 – current: Co-Founder and Chairman of Managing Board of "Cluster for Information and Communication Technologies" – www.ictcluster.bg
2008 – Co-Founder of "Bulgarian Cluster Telecommunication" – http://btcluster.org/
2009 – Co-Founder of "Bulgarian Cluster for Microelectronics and Embedded Systems" – www.cmees.org
2009 – Co-Founder and from 2012 – 2014 Chairman of Bulgarian Association of Business Clusters - http://www.abclusters.org/
2012 – current: Member of board of trustees of European Software Institute – Center Bulgaria – http://www.esicenter.bg/
2013 – current: Vice chairman of ETSI

Business:
2003 – current: Chairman of BoD of SmartCom Bulgaria Group – SmartCom Bulgaria AD, Smart Lab Bulgaria Ltd. and SmartCom Turkey Ltd. – Leading Telecom System Integrator and Developer. Bulgarian Sixth National Innovation Forum 2010 – elected the company as most innovative Bulgarian enterprise. www.smartcom.bg

Education:
2004 European Software Institute, Bilbao, Spain Systems for Quality Control in Software Industry, Introductory Course
1995–1997 New Bulgarian University Sofia; Collaboration program with Open University, London in Effective Management
1978–1983 Technical University Sofia; Master of Science in Telecommunications
George Brashnarov
Member of the Managing Board of ICT Cluster
gbrashnarov(at)nemetschek.bg
- Member of the Managing Board of BASSCOM
- Vice President PIN-SME
George Brashnarov is President of BASSCOM (Bulgarian Association of Software Companie) and Chairman of the Board of the ESI Centre Eastern Europe (regional excellence Centre of the European Software Institute).
He is also managing one of the biggest software development companies in Bulgaria – Nemetschek OOD Bulgaria (as major shareholder). Mr. Brashnarov's expertise spans over 20 years in IT areas such as software development, system integration, outsourcing services, consultancy and implementation of IT solutions with major international players and companies from ICT, building industry, automotive sector, financial and insurance institutions. He is actively participating in different initiatives for building local and regional IT capacity and brand recognition, as well as is invited speaker for many international conferences as EBRD Annual Events, SEI SEPG Latin America, ESI Clustering Congress, USAID and GTZ conferences, etc.
 
In June 2008, Mr.Brashnarov was appointed as Vice President of the newly established European Association PIN-SME (Pan European ICT & eBusiness Network for SMEs
George Dimitrov
Member of the Managing Board of ICT Cluster
george.dimitrov(at)dpc.bg
- Chairman, Center for ICT in the Law
Assoc. Prof. Dr. George Dimitrov is a founding partner of Dimitrov, Petrov & Co. Law Firm and head of its ICT Law & IPR Practice Group. He is a Doctor of Laws of the Katholieke Universiteit Leuven, Belgium (Ph.D. 2008). Dr. Dimitrov graduated cum laude from Sofia University, Faculty of Law (LL.M. 1995) and specialized at the Academy of American and International Law, Dallas, Texas (2002). Holder of the prestigious Victor Folsom Fellowship. Dr. Dimitrov is a lecturer in ICT Law at Sofia University, Faculty of Mathematics and Informatics, the Technical University, the University of Library Studies and Information Technologies, and Veliko Tarnovo University.
George Sharkov
Member of the Managing Board of ICT Cluster
gesha(at)esicenter.bg
- Managing Director, European Software Institute - Center Bulgaria
George Sharkov is the Director of the ESI Center Eastern Europe – the regional excellence center of European Software Institute in Sofia. He graduated Mathematics and Computer Science at Sofia University in 1986, obtained PhD in Computer Science (Artificial Intelligence), specialized in applied informatics and applied research in biophysics and genetics (Bulgarian Academy of Sciences and University of Gent – Belgium). Since 1994 he is leading international teams and projects for software and information systems in the fields of banking and finances, online trading, e-business and e-commerce solutions, internet exchanges and B2B markets, interactive and cross media systems. Among the initiators of BASSCOM (Bulgarian Association of Software Companies – www.basscom.org) and Chairman since the year of2001. Founder and manager of ESI Center Bulgaria (www.esicenter.bg) since 2004. Qualified instructor in SPI (Software Process Improvement), implementation of CMMI, accredited ITMark instructor and appraiser. Initiator and promoter of the international initiatives for ICT regional branding and competitiveness. One of the initiators of the ICT Cluster Bulgaria.
Ivaylo Gueorguiev
Member of the Managing Board of ICT Cluster
ivo(at)esicenter.bg
- Program Manager, European Software Institute - Center Bulgaria
For the past 10 years, I led projects ranging from the development of the Bulgarian electronic government strategy and technology and innovation foresight initiatives to the management of project portfolios and software process improvement initiatives in Small and Medium-Sized Enterprises (SMEs).
I have planned, managed and participated in the implementation of software process improvement initiatives employing the Capability Maturity Model Integration CMMI, information security and business management methodologies in companies in Armenia, Bulgaria, Macedonia, Moldova, Romania and other countries.
Since 2004 I am a program manager for the European Software Institute Center Eastern Europe located in Sofia, Bulgaria.
Specialties:• Planning and implementation of process improvement initiatives using CMMI, ITMark and other models
• Development and implementation of strategic Management Information Systems using Balanced Scorecard methodology.
• Project and program management
Sasha Bezuhanova
Member of the Managing Board of ICT Cluster
sasha.bezuhanova(at)bgwomeninict.org
- Chairperson of Bulgarian Centre of Women in Technology
Sasha Bezuhanova is a Senior Executive with proven track of record across multiple disciplines including general management, strategy, business development, emerging markets, international institutions relations, corporate social responsibility and civil society development. Excellent blend of analytical and strategic capabilities. Strong leadership and communication skills. Execution and results oriented. Ability to work effectively, partner and build consensus at all levels of the organization.
Stoian Boev
Member of the Managing Board of ICT Cluster
icb(at)icb.bg
- Member of the Managing Board of BAIT
- Member of the Managing Board of DigitalEurope