Webinar: "Q&A on the First Open Call for Full Proposals" under the Better Factory project - July 1st 2021
06/17/2021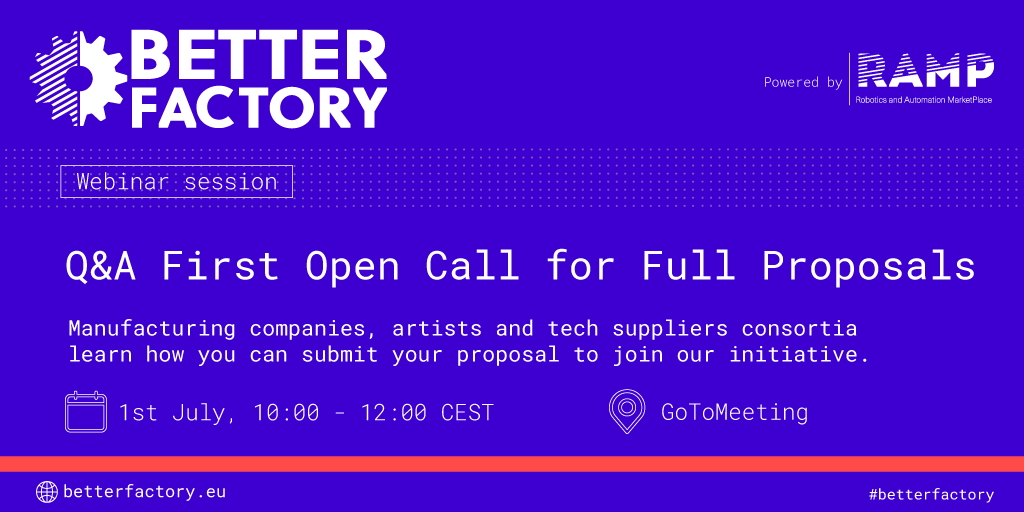 The 1st Open Call under the Better Factory project for Full Proposals is now active!
Deadline for application: 15.07.2021
The 1st Better Factory Open Call for Full Proposals will enable:
manufacturing companies to enter new markets or become more innovative and competitive on existing markets with customisable products or service portfolios.
artists, with an industrial background, to create new business models for themselves and reach new prospective clients.
technology suppliers to reach out to new potential customers and test technologies in real-life situations with low financial risk.
For more information about the project, deadlines and application form:
https://better-factory.fundingbox.com
On July 1, 2021 11:00 AM - 1:00 PM (SET) there will be a webinar: "Q&A on the First Open Call for Full Proposals" in order to help potential applicants craft an effective proposal and to help them solve their doubts and questions about the application process.
Link to the event:
https://www.linkedin.com/events/6798629053822758912/
Registration link:
https://register.gotowebinar.com/register/1647516334149047568
We use 'cookies' to customize the content and ensure the proper functioning of the website. By continuing to use it, you agree with the use of these technologies. For more information, please read the of ICT Cluster