European DIGITAL SME Alliance: 'Bring your business outside the borders' - June 24, 15h CEST
06/10/2021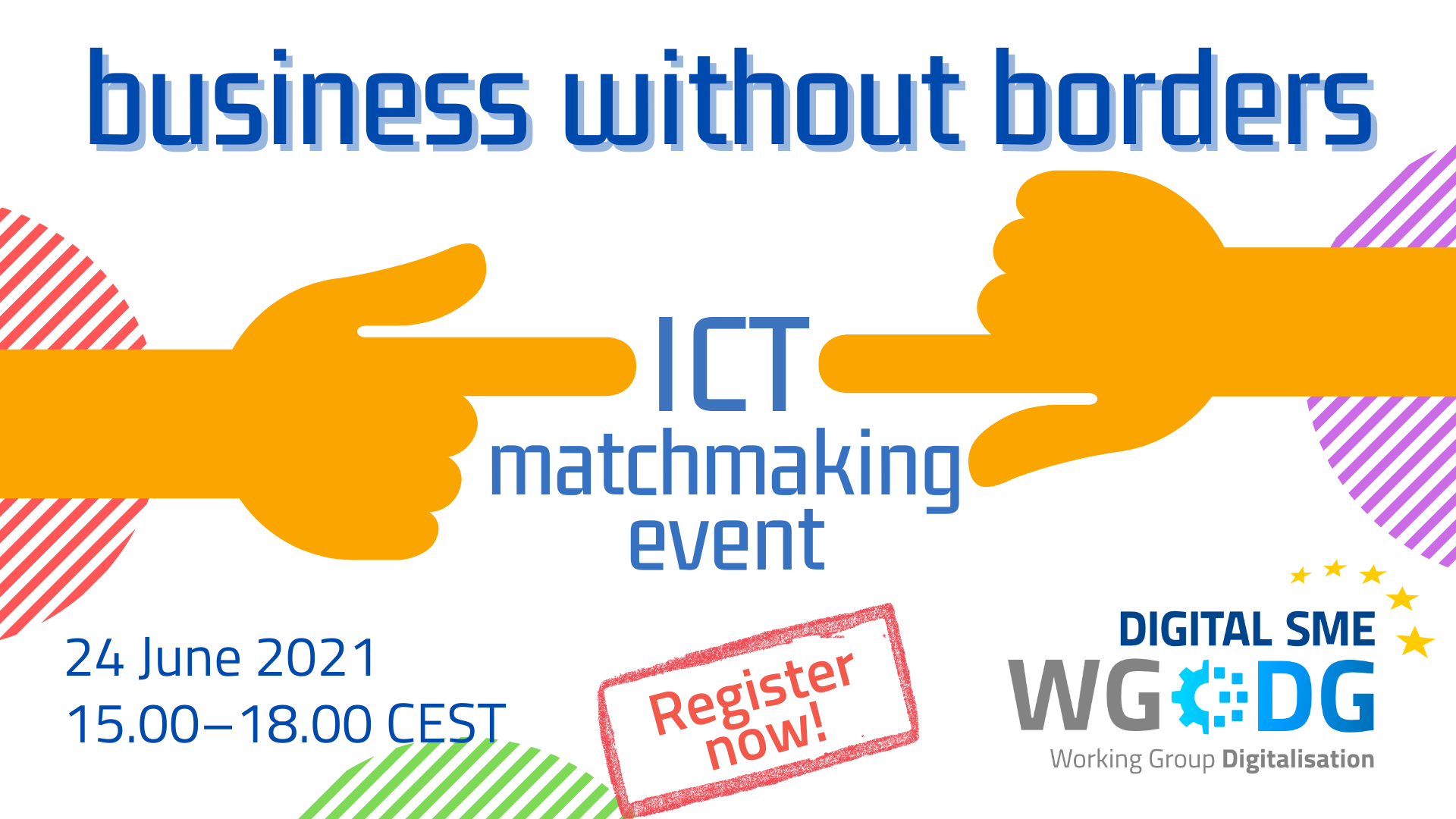 European DIGITAL SME Alliance's Working Group Digitalisation presents a matchmaking event for the ICT SMEs across Europe. This half-day event brings together a forward-driven innovative ICT SMEs, which are looking for partners and willing to kick-start cross-border cooperation.
Who is it for?
This matchmaking event is targeting SMEs in ICT sector, which provide digitalisation solutions and services. It is a chance to the companies to meet each other and partner up! Providers of diverse technologies (AI, blockchain, AR/VR, IoT and much more), catering for digitalisation of different sectors (fintech, e-health, additive manufacturing, smart agriculture, etc..) are welcome to participate.
Why to participate?
✓  present your solutions or future project ideas to potential international cooperation potential partners
✓  find partners to co-develop new solutions or common product portfolio
✓  discuss new technology and innovative solutions, share experience about challenges your business faces
✓  promote yourself as a potential partner for joint development or research projects
Timeline & Registration:
Companies are invited to register their profiles before the 16 June. Companies will be able to set-up bilateral meetings between 16-21 June 
Event format & agenda:
✓ 3:00 - 3:05 Welcome Word (Andrei Kelemen, Chair of Working Group Digitalisation)
✓ 3:05 - 3:20 Setting the scene: success story from SME who has established successful partnerships through matchmaking (Fuelics and Palo)
✓ 3:20 – 6:00 Bilateral one-on-one meetings (around 20min per meeting) scheduled between the companies
Оnly 6 spots left!!
Register here:
https://www.digitalsme.eu/events/ict-matchmaking-event-bring-your-business-outside-the-borders/
We use 'cookies' to customize the content and ensure the proper functioning of the website. By continuing to use it, you agree with the use of these technologies. For more information, please read the of ICT Cluster