Competition Bulgarian awards for web 2012
07/03/2012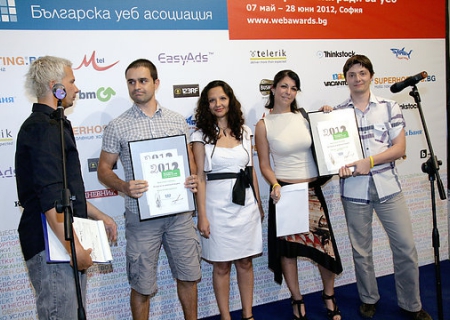 The winners in the different categories of the professional competition for web in Bulgaria were announced on official award –giving ceremony in hotel Arena di Serdica in Jun 28 2012 in Sofia. ICT Cluster was partner of the event.  
Anna Naydenova – Project Manager in Foundation "ICT Cluster" warded Records Management and Alle.bg – make yourself website in the category "Services and Consultation".
Awards in the different categories were given for:
Award "Web Agency of the Year" – Digital Agency eDesign
Award "Internet Marketing Agency of the Year" - Knoway
Award "Internet Media of the Year" – Iconomedia
Award "The Best Site of the Professional Jury" – Grabo.bg
Award "The Best Site of the Branch Jury" – KIA Motors Bulgaria
Total number of the warded companies is 50. There were nominated 2 winners in six categories for one award because of the equal number of points.
The list of the winners is available here: http://webawards.bg/bg/winners. 
We use 'cookies' to customize the content and ensure the proper functioning of the website. By continuing to use it, you agree with the use of these technologies. For more information, please read the of ICT Cluster