Conference and round table "National Ecosystem for Innovation and Competitiveness support" took place on 22 February 2012 at Grand Hotel Sofia.
02/14/2012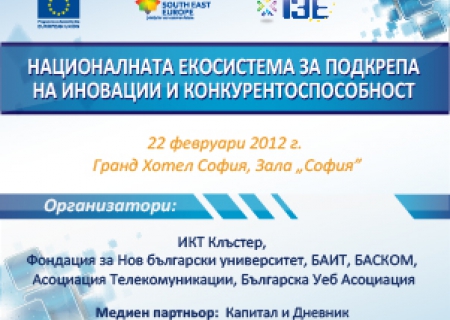 The event was organized by Foundation ICT Cluster with the support of BAIT, Basscom, Foundation for New Bulgarian University and Bulgarin Web Association.
The main aim of the event was to provoke a public dialog for the creation and development of a working ecosystem for innovation in Bulgaria.
In the conference participated representatives of the state administration, universities and business.
We use 'cookies' to customize the content and ensure the proper functioning of the website. By continuing to use it, you agree with the use of these technologies. For more information, please read the of ICT Cluster