"Information about regulatory frames and legal issues" - 2nd of September
08/18/2021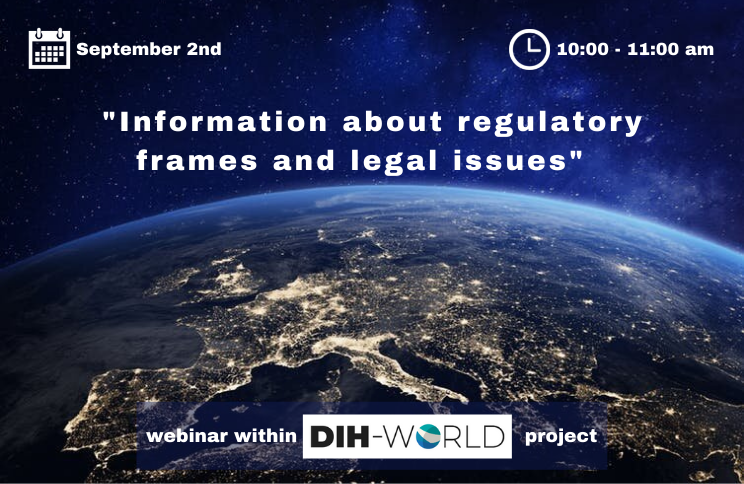 EURADA is organizing a webinar within the DIH-World project with the topic "Information about regulatory frames and legal issues".  Funded by the H2020 programme, the project supports 27 DIHs from 26 countries. It aims to overcome hurdles that SMEs may face on their digitalization journey through improved support of DIHs.
📅 The webinar will be held on the 2nd of September, from 10 to 11 am. 
The purpose of this event is to explain how to set up a Digital Innovation Hub (DIH) from a legal point of viewand provide DIHs with practical ideas on how to improve their design thus making them more effective.
🗣 The keynote speaker is Tereza Šamanová - legal expert, Czech DIH Community coordinator within DIHNET Project and DIHNET Ambassador, will present some examples of legal issues encountered when establishing a DIH and examples of Czech Republic. After this first presentation, we will have two regionals telling us about their experience in establishing their DIHs: explaining how agreements were prepared with stakeholders and how they were registered in their countries to make the DIH fully operative.
In the end of the event will be opened a Q&A and Conclusions session, to clarify all ambiguities and doubts.
💻 If you find this event interesting and useful, you can register at: https://site.evenium.net/dih-world-webinar/registration
We use 'cookies' to customize the content and ensure the proper functioning of the website. By continuing to use it, you agree with the use of these technologies. For more information, please read the of ICT Cluster