100% Europe | Clusters at the heart of Europe's challenges
11/02/2021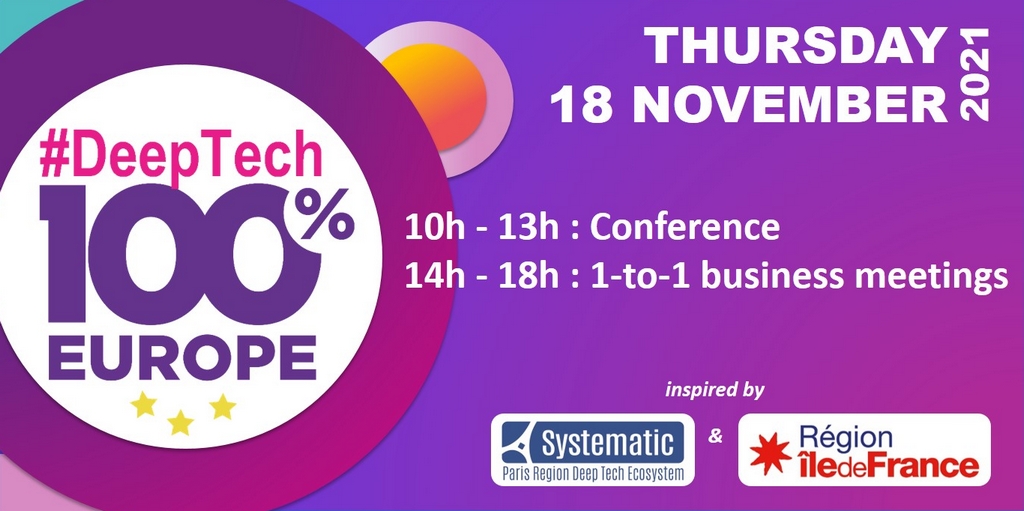 Systematic Paris-Region continue their tradition by organizing the 100% Europe event this year as well.
This year`s edition will comprise two major sequences:
✔️ 
a conference
addressing key topics for clusters and their members:
the twin transition - green and digital transition - under Horizon Europe

hear about experiences with EU-funded projects from your peers

have a chance to present for the next phase of Horizon Europe topics
✔️
a 1 to 1 brokerage afternoon with our bespoke matchmaking platform
🆓 
The discount code for ICT Cluster members to register free of charge is: 
MembreICTCLUSTER1811
Ако сте играч на европейската сцена за  научни изследвания и иновации, датата е18 ноември, часът , а домакините - Systematic.
If you are an actor of the European 💡 research and innovation landscape, please join us on 📅 Thursday 18 November from ⏳10:00h. for an exceptional event with high value-added conferences and B2B meetings featuring Systematic's growing European ecosystem!
📌📌Join the european #deeptech ecosystem, meet clusters, find your partners for the next wave of Horizon Europe

We use 'cookies' to customize the content and ensure the proper functioning of the website. By continuing to use it, you agree with the use of these technologies. For more information, please read the of ICT Cluster