Facilitator training under the Smart Factory Hub project
04/30/2018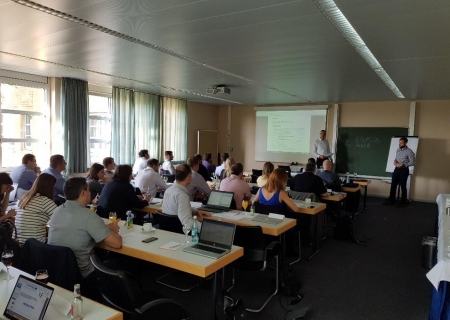 In April 24-26, 2018 in Stuttgart, Germany, a facilitator training was organized under the Smart Factory Hub project, funded under the Danube Transnational Program, to which the Cluster Information and Communication Technologies Foundation is a partner.
The training was organized by the University of Stuttgart. For the first time in the project, the partners presented their facilitators, who will play a key role in the further implementation of the project. The ICT Cluster was represented by Anna Naydenova - Project Coordinator and Todor Mitov - Assistant Project Manager. The facilitators were introduced to the project, and then took part in technology transfer training, Industry 4.0, Innovative Technologies in Production,: 3D Printing, Internet of Things, Automation and Industrial Sensors.
During the training, the University organized visits to ARENA2036 - an institute at the University of Stuttgart, as well as the company Cirp where the partners presented innovative products in the field of smart factories and 3D printing.
We use 'cookies' to customize the content and ensure the proper functioning of the website. By continuing to use it, you agree with the use of these technologies. For more information, please read the of ICT Cluster