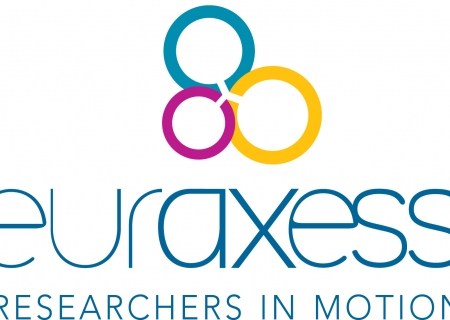 Foundation ICT Cluster joined the network of EURAXESS, which is an initiative of European Commission that facilitates the explorers and scientists when they change their work place in other country.
EURAXESS Bulgaria is part of the European network EURAXESS, established by the European Commission to assist incoming and outgoing researchers and highly qualified specialists. EURAXESS develops its activities under 4 key initiatives:

Helps the researchers and highly qualified specialists to find jobs, funding opportunities, grants, employment, etc    

Provides integrated mobility services that will make the move to another country as smooth as possible  

Looks after researchers' and highly qualified specialists' rights

Connects European Researchers worldwide
Main tool for providing updated and structured information is the Internet portal EURAXESS Bulgaria. The pages in LinkedIn and Facebook support the dissemination of news and information about events.
The portal is part of the European network of portals EURAXESS, opened in 39 countries. All national portals are similar in design and structure, and they are all linked to the central EURAXESS portal, which publishes more than 8000 online research job offers from all EURAXESS countries.
In addition to the portal, there are three coordinating centers of EURAXESS Bulgaria – at Sofia University, Institute for Technology and Development and the New Bulgarian University. There are as well Local Contact Points for serving researchers at the TU Sofia , TU Varna, Ruse University "Angel Kanchev" (Ruse), Trakia University (Stara Zagora), Plovdiv University "Paisii Hilendarski" (Plovdiv), Bulgarian Academy of Science , IF"St.St. Cyril and Methodius", Bourgas Free University (Bourgas), UNIBIT Sofia and ICT Cluster where mobile researchers and highly qualified specialists can receive information and personalized services. The Local Contact Point at UNWE provides information and support related to intellectual property rights.
All EURAXESS services are free.
Local point of contact for the Foundation ICT Cluster is Milena Terzieva.
Tel. + 359 2 489 97 44
E-mail: milena_terzieva@ictcluster.bg.
For more information visit the EURAXESS website:
http://euraxess.bg or
http://ec.europa.eu/euraxess/
We use 'cookies' to customize the content and ensure the proper functioning of the website. By continuing to use it, you agree with the use of these technologies. For more information, please read the of ICT Cluster