Smart Factory Hub - Improving RD and business policy conditions for transnational cooperation in the manufacturing industry
January 01,

2017
- June 30,

2019
Manufacturing industry represents a generator of R&D, innovation, growth and employment. Based on increasing pressure on manufacturers (increased production capacity in low-cost economies and increased level of sophistication of supply chains in high-cost economies), the manufacturers need to embrace novel technologies, principles and approaches. In other words, manufacturers need to digitize their production, while taking into consideration also improvement in processes and human resource management.
SMART FACTORY HUB (SFH) main objective is to improve framework conditions for innovation in the area of smart factory/Smart Manufacturing, based on Research and Innovation Smart Specialization Strategy (RIS3) centred model.
The basic strategic concept of the SFH is depicted on the following Figure below: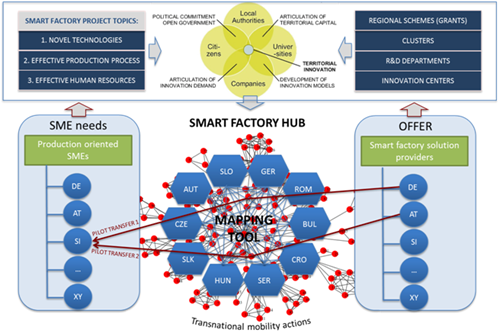 In order to follow project's objective, we will be oriented to find novel solutions in the following 3 domains:
applying novel technologies,
applying effective production process and
applying effective human resource management systems
Project main outputs are following:
1 common transnational Research and Innovation Smart Specialization Strategy - RIS3 centred Smart Factory Model with Action Plan and
2 testing schemes - pilot implementation of innovative supply-driven (TransferLab) and demand-driven (PolicyLab) actions based on knowledge platform, cooperation profile matrix and learning hub for technology alliances.
Smart Factory Hub project execution is based on series of following Work Packages (WPs):
WP0: PROJECT PREPARATION
WP1: PROJECT MANAGEMENT
WP2: COMMUNICATION & DISSEMINATION
WP3: BENCHMARK ANS RIS3 BASED SMART FACTORY MODEL DEFINITION
WP4: IMPROVING THE COMMON KNOWLEDGE BASE
WP5: LEARNING AND COOPERATION HUB FOR TECHNOLOGY ALLIANCES
WP6: PILOT OF ENABLING INSTRUMENTS AND MODEL VALIDATION
List of the project partners :
Pomurje Technology Park - SLOVENIA
Technical University of Cluj-Napoca - ROMANIA
Croatian Agency for SMEs, innovations and investments - CROATIA
University of Stuttgart – Institute for Human Factors and Technology Management - GERMANY
PROFACTOR GmbH - AUSTRIA
University of West Bohemia - CZECH REPUBLIC
Slovak Chamber of Commerce and Industry - SLOVAKIA
Pannon Business Network Association  - HUNGARY
Foundation "Cluster Information and Communications Technologies" - BULGARIA
Chamber of Commerce and Industry of Serbia - SERBIA
Public Agency for Entrepreneurship, Internationalisation, Foreign Investments and Technology - SLOVENIA
Stuttgart Region Economic Development Corporation - GERMANY
Ministry of Economy of the Republic of Serbia - SERBIA
Start date: 01-01-2017
End date: 30-06-2019
Budget in Euro
Overall: 1838636,6
ERDF Contribution: 1456071,99
IPA Contribution: 106769,09
ENI Contribution: 0
Call number: Call 1
Priority: Innovative and socially responsible Danube region
Specific objective: Improve framework conditions for innovation
 Social network pages of the project:
Project co-funded by European Union funds (ERDF, IPA)
We use 'cookies' to customize the content and ensure the proper functioning of the website. By continuing to use it, you agree with the use of these technologies. For more information, please read the
"Cookies Policy"
of ICT Cluster